TRY AROSHA ON YOURSELF. SEE THE RESULTS YOURSELF. IT'S THE BEST WAY TO START NEW TREATMENTS IN YOUR BEAUTY SALON AND ACHIEVE AMAZING EFFECTS.
+ pressotherapy system
+ free Detoxy kit
+ free detox Cream
+ free CARTENE ROLL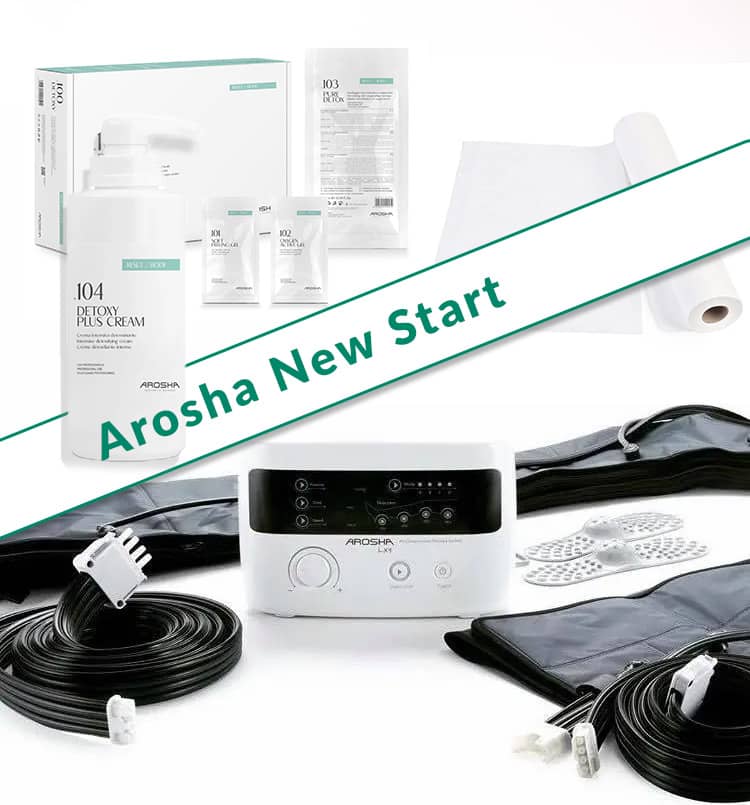 What results can you expect after just one treatment?
reduced oedema

significant hydration

visible firming

skin smoothing

reduced circumferences

body detox
firming
lightness
Perform the treatment
with an Arosha starter kit!
Be sure to measure your circumferences before the procedure.
Step 1
Perform dry body brushing – watch the video.
Step 2
Follow the steps on the KIt Detoxy box.
Step 3
 Begin bandaging from the ankles up.
Step 4
Remove bandages and apply finishing cream Detoxy.
Efficient and simple pressotherapy system. 
Improves blood circulation in the body and reduces lymphostasis.
Provides great results and enables treatments on legs, arms and hips.
Specification:
⦁ 4 treatment programmes
⦁ 2 cuffs: 4-chamber for legs, 4-chamber waist belt
⦁ Pressure from 10 to 180 mmHg
⦁ Treatment time from 5 to 90 minutes
⦁ Filling/sealing of the belts from 0 to 6 s
⦁ Dimensions: 26 cm x 16 cm x 120 cm
⦁ Weight: 2 kg
DETOXY PLUS CREAM –
500ml
TO COMPLETE THE TREATMENT
Professional massage cream with a PURIFYING and DETOXIFYING action to
be used at the end of the treatment.
Active ingredients:
• CELL DETOXY SYSTEM
• HYALURONIC ACID
• SHEA BUTTER
• TREALOSE
TO COMPLETE THE TREATMENT
Professional massage cream with a PURIFYING and DETOXIFYING action to
be used at the end of the treatment.
Active ingredients:
• CELL DETOXY SYSTEM
• HYALURONIC ACID
• SHEA BUTTER
• TREALOSE