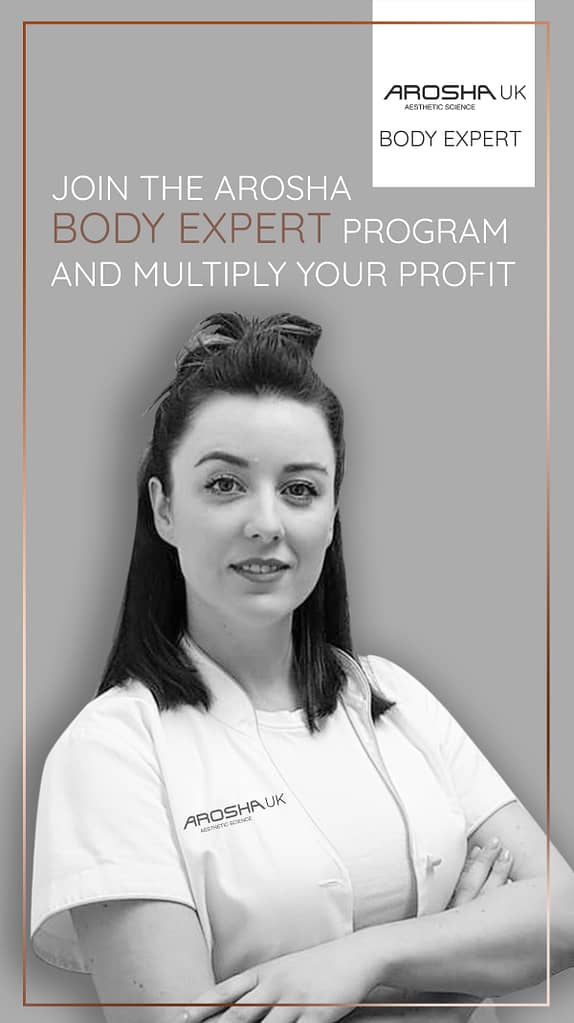 I am very pleased to inform you that I have been awarded as official ambassador for one of the best companies specialised in body care:
Arosha UK Aesthetic Science
… an Italian brand of iBEAUTY.
Arosha specialises in creating innovative cosmetics and skincare products. Every preparation is developed combining the last achievement in cosmetics and biomedical engineering. By selling his famous bandages in more than 15 countries, Arosha is the absolute leader in body slimming treatments.
Being a new Arosha Ambassador, I am pleased to bring these innovative bandages and treatments to selected beauty salons in England
I could now write a lot about our incredible product range but I first need to mention how impressed I was from the approach and attention that Arosha's founders are dedicating to their clients and brand: it definitely stole my heart
The love at first site blossomed during my official training at Arosha headquarters in Bergamo (Italy) where I met in person all the committed, passionate and talented team-members.
As an Arosha UK Ambassador, I have now the great honour to invite you to team with us, transmit you the philosophy of our brand and familiarise with the possibilities that our treatments will bring to your salon. Moreover you can count on my full support to create a tailored treatment offer for your salon and have my expertise at your service to make sure you will deliver the best results to your clients by using Arosha products.
Do not hesitate any longer and get in touch with me to familiarise with our unique offer.
Write me at: sabinaokonska.aroshauk@gmail.com
Or call me at 07508 078476
Further updates can be found on our official fanpage or on our support Facebook group
https://www.facebook.com/aroshauk/
https://www.facebook.com/groups/195113608306477/?ref=share
Officially we have an ambassador of Arosha UK
Justyna Szwed, thank you for this wonderful Opportunity an we are proud to welcome you to our team!
We are sure that our cooperation will result in a great development of many beauty salons in Great Britain.
I are also happy to announce that My SPA Expert salon has become an authorized Arosha salon.
Justyna Szwed brings these good news for salons which do not have HI TECH equipment because Arosha introduces a treatment that brings great results based on unusual ingredients that alone or in combination with machine treatments such as pressotherapy, T-Shape, cryolipolysis or SculpSure laser will give indescribable effects!
Each salon will be able to afford such a luxury procedure for customers, because it is our mission to find the most effective solution to their problems.
It's now much easier with AROSHA!
We would like to invite you to familiarise yourself with treatment programs that will increase the quality and credibility of treatments in your beauty business.
Justyna will help you create a business plan and a price list adapted to your offer that will help you to promote the profile of your salon. She will teach you how to combine treatments, conduct consultations and educate your client.
Arosha's treatments are completely safe, as you can see in our accredited training, for more informations contact us directly via private message.
Get ready for a big breakthrough !
It will be a real revolution of your beauty salons and customermetamorphosis!
Beauty salon owners are invited to consult all options and register for training with our ambassador:
justynaszwed.aroshauk@gmail.com
tel: 07707288008